ONIGIRI
Enjoy our unique onigiris! You can find your favorite onigiri from our various onigiri selections. We have vegan options too!
One of our best selling onigiris. Onigiri mixed with tender pork belly braised and coated with original secret sauce!
Onigiri mixed with salty salmon grilled in butter and spices of shichimi peppers. Goes delicious with seaweed!
Fermented soybean paste (miso), scallions (negi) and Shichimi peppers sprinkled on a grilled onigiri.
An onigiri with our original ramen egg. Because of the delicate production process, limited availability every week.
Grilled onigiri mixed with sweet corn, crunchy garlic, and ra-yu oil (Japanese chili oil).
Onigiri mixed with marinated tofu soboro mince & red ginger pickles (Beni-shoga).
Canned tuna mixed with Japanese mayonnaise. One of the most popular onigiri in convenience stores in Japan.
Sour pickled plum (ume), bonito flakes (okaka), and cheese onigiri. Perfect with sriracha sauce!
Sour pickled plum (ume), sesame, and wakame seaweed onigiri. Perfect with sriracha sauce!
Plums marinaded with salt and shiso-leaves and preserved for a couple of months to develop the flavor.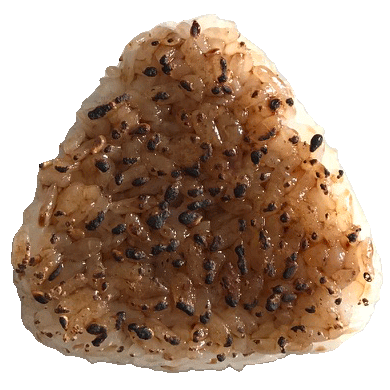 Grilled onigiri mixed with sweet corn and cheese. Topped with creamy melted cheese and black pepper.
Grilled onigiri infused with gingers and seasoned with simple soy sauce (shoyu).
Shoyu (Soy sauce) is the classic flavor for yaki onigiri in Japan. Enjoy the aroma of smoky shoyu and rich flavor of okaka.
Sesame sushi rice wrapped in a fried tofu pocket soaked in a sweet and savory sauce.
We offer onigiri meals that include 5 onigiris, mushroom, wakame & tofu miso soup, oshinko pickles. Good for lunch or dinner for one person and try our various flavors at the same time.
5 onigiris (Okaka Shoyu, Negi Miso, Salmon Butter, Ume Okaka Cheese, Corn Cheese Pepper), Fresh mushroom, wakame, &tofu miso soup, and Oshinko pickles.
5 onigiris (Pork Belly, Negi Miso, Salmon Butter, Ume Okaka Cheese, Corn Cheese Pepper), Fresh mushroom, wakame, &tofu miso soup, and Oshinko pickles.
​5 onigiris (Ginger Shoyu, Negi Miso, Ginger Tofu Soboro, Ume Sesame, Garlic Corn), Fresh mushroom, wakame, &tofu miso soup, and Oshinko pickles
BENTO
Bento box is a Japanese food culture that allows us to eat healthily and enjoyably! We offer bento boxes with unique and authentic onigiri, Japanese sidedishes, and sweets!
KARA-AGE JAPANESE FRIED CHICKEN BENTO
2 of your onigiri choices, Kara-age, Ramen Egg, Edamame, Strawberry Daifuku Mochi and Oshinko pickles
MONTHLY SPECIAL BENTO
A special bento for the month! Check what's available this month on our Instagram page.
*The image is our previous bento, and not offered this month.
Essential partners of onigiris. Get meals or bento to try them out with onigiris.
MISO SOUP
(FRESH MUSHROOM, WAKAME, & TOFU)
KARA-AGE
(JAPANESE FRIED CHICKEN)
Miso (soybean paste) is incredibly healthy food. You can enjoy the rich flavor of miso with fresh mushrooms, tofu, and wakame seaweed.
Oshinko means "new fragrance". We selected takuan (daikon radish pickles) to compliment our onigiri. Enjoy their satisfying crunchy texture and sharp tangy flavor with your onigiri.
Japanese style fried chicken with spicy mayo. Our spicy mayo is freshly made in-house.
Edamame with sea salt. Add healthy proteins to your meal.
Enjoy our unique & special fruit daifuku mochis to treat yourself!
Filled with red bean paste and a little bit of whipped cream topped with fresh strawberries.
Created by Chef Chase, the banana foster mochi is a Japanese American fusion. Topped with caramelized banana and filled with whipped cream and red bean paste.
Simple tasting beverages go well with onigiri.
GREEN TEA
(ITOEN OI OCHA)
Catechins in green tea strengthen your immune system. It is also good for gradual caffeine intake.
SPARKLING JUICES
(KIMINO)
Yuzu, ume, mikan, and ringo flavored Japanese sparkling juices. Hand-picked our seasonal fruits and use the naturally sourced water from the Hyogo mountains to add to the flavor and texture of our drinks.
NON-ALCOHOLIC BEER
(SUNTORY ALL-FREE)
Suntory ALL-FREE is a
non-alcoholic beer-alternative from Japan with an ultra-light, ultra-crisp, and ultra-refreshing taste.
Surprise your friends/family with special Japanese gifts!
DIY ONIGIRI KIT
(with class video)
The kit includes all the ingredients, KORORIN onigiri mold, and recipes, with recorded onigiri class! Our co-founders, Yuta Katsuyama and Cristina Tarriba, will teach you how to make delicious homemade Onigiri in the video!
​
​
Imported from Japan, Kinmemai is a gourmet specialty rice unlike any other. Packed with vitamins, as nutritious as conventional brown rice easy to digest Kinmemai Better Brown™ Rice appears lighter than conventional brown rice — that's because the rice grains' tough outer wax layer has been gently removed, making it easier on your digestive system, avoiding gas, bloating and cramping, which is typical of brown rice.
COLDBREW SENCHA TEABAGS
(LILIKU TEA)
This sencha, imbued with the characteristics of the famed "Kawane tea" - a light fragrance,
gentle sweetness, and refreshing aftertaste - is the result of carefully cultivating in the
organic tea farm in Kawane, Shizuoka prefecture. By brewing in cold water, you can enjoy
sweeter and milder taste with less caffeine intake.
Onigiri-shaped sweet soy sauce flavor rice crackers directly imported from Japan.