ONIGIRI MEAL
We offer an onigiri meal that includes 5 onigiris, mushroom&tofu miso soup, oshinko pickles. Also, Family set (meals for 2 people) is available.
5 onigiris (Okaka Shoyu, Negi Miso, Salmon Butter, Ume Okaka Cheese, Corn Cheese Pepper), Fresh mushroom&tofu miso soup, and Oshinko pickles
*The tea is not included!
​We don't use any fish or dairy products!
​5 onigiris (Ginger Shoyu, Negi Miso, Tofu Soboro, Ume Sesame, Garlic Corn), Fresh mushroom&tofu miso soup, and Oshinko pickles
4 onigiris (Yaki-tarako, Umeboshi, Tuna-mayo, Pickled Cucumber), Fresh mushroom&tofu miso soup, and Oshinko pickles
* the strawberry daifuku mochi and the tea is not included!
ONIGIRI
Our onigiri is grilled onigiri (aka. Yaki Onigiri). "Yaki" means grille in Japanese. With a crispy savory crust on the outside and soft fresh rice on the inside, it's irresistible.
*Images for the vegan menu and classic menu will coming soon!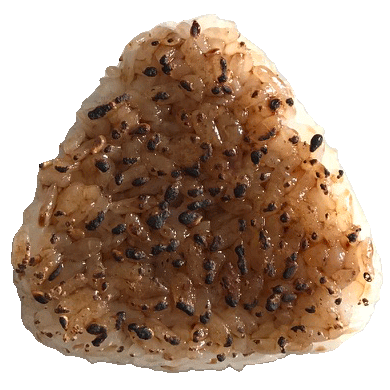 Shoyu (Soy sauce) is the classic flavor for yaki onigiri in Japan. Enjoy the aroma of smoky shoyu and rich flavor of okaka.
The combination of miso and fresh green onions (Negi) makes a very flavorful taste. It is also good with spicy shichimi pepper.
Mixed rice with juicy salmon flakes & our negi-miso sauce grilled over browned butter. It has a rich umami flavor.
Grilled sweet corn with shoyu is a popular food in Japan. We mix it into the onigiri with black peppers and melted cheese.
The sourness of umeboshi (pickled plums) helps you to combat fatigue. We add umami of Katsuobushi (dried bonito).
SIDE DISH
Miso soup and oshinko are essential partners of onigiris. Our onigiri lunch meal includes both.
MISO SOUP
(FRESH MUSHROOM & TOFU )
Miso (soybean paste) is incredibly healthy food. You can enjoy the rich flavor of miso with fresh mushrooms, tofu, and wakame seaweed.
Oshinko means "new fragrance". We selected takuan (daikon radish pickles) to compliment our onigiri. Enjoy their satisfying crunchy texture and sharp tangy flavor with your onigiri.
BEVERAGE
Simple tasting beverages go well with onigiri.
Catechins in green tea strengthen your immune system. It is also good for gradual caffeine intake.
Ramune is a lemon-lime flavored soda in a playful bottle. You can play with the marble after finishing it.